USA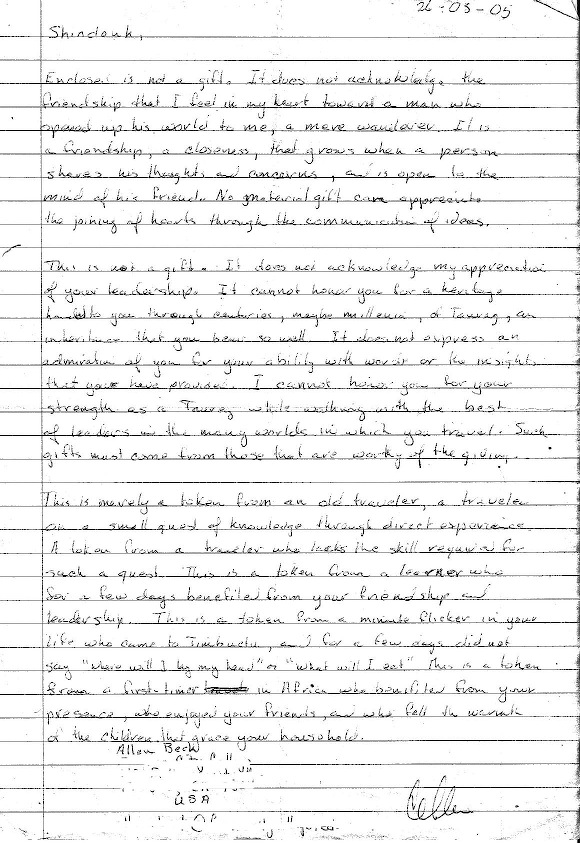 Shindouk,
Enclosed is not a gift. It does not acknowledge the friendship that I feel in my heart toward a man who opened his world to me, a mere wanderer. It is a friendship, a closeness that grows when a person shows his thoughts and concerns and is open to the mind of his friends. No material gift can appreciate the joining of hearts through the communication of ideas.
This is not a gift. It does not acknowledge my appreciation of you leadership. It cannot honor you for a heritage handed to you through centuries maybe millennium of Tuareg, an inheritance that you bear so well. It does not express an admiration of you for your ability with words or the insights that you have provided. I cannot honor you for your strengths as a Tuareg while walking with the best of leaders in the many worlds in which you travel. Such gifts must come from those that are worthy of the giving.
This is merely a token from an old traveller, a traveller on a small quest of knowledge through direct experience. A token from a traveller who lacks the skill required for such a quest. This is a token from a learner who for a few days benefited from your friendship and leadership. This is a token from a minute flicker in you life who came to Timbuktu, and for a few days did not say "where will I lay my head" or "what will I eat" This is a token from a first-timer in Africa who benefited from your presence, who enjoyed your friends, and who felt the warmth of the children that grace your household.
Allen
Le ci-joint n'est pas un cadeau. Il ne peut pas reconnaître l'amitié que je sent dans mon coeur envers un homme qui a ouvert sont monde à moi un simple promeneur. C'est un amitié, un rapproche que pousse quand une personne montres ses pensés ses soucis et est ouvert à l'esprit des ses amis. Aucun cadeau matériel ne peut apprécie le rencontre des coeurs à travers la communication des idées.
Ce n'est pas un cadeau. Il ne peut pas reconnaître mon appréciation de votre leadership. Il ne peut pas vous honorer pour un héritage transmis à vous depuis des sicles peut être même un millénaire des touareg. Un héritage que vous portez très bien. Il n'exprime pas un admiration pour votre faculté d'expression ou les perspicacité vous nous a offert. Je ne peux pas vous honorer pour les forces comme un touareg tout en marchant aux côtés des meilleurs leaders dans les différents mondes aux quels vous vous promenez. Des telles cadeaux doivent venir de ceux qui méritent de donner.
Cici n'est qu'un geste d'un veux voyageur sur un petit quête de savoir à travers l'expérience direct. Un geste d'un voyageur auquel les compétence pour un telle que lui manque. C'est un geste d'un apprenti qui pour quelque jour a bénéficié des votre amitié et votre leadership. Cet geste d'un minuscule étincelle dans votre vie qui est venu à Tombouctou, et pour quelques jours n'a pas du se demandé "où est-ce que je poserai ma tête" ou "où mangerai-je" Cette geste viens d'un initié en Afrique qui a bénéficié des votre présence, qui a pris plaisir de vos amis, et qui a senti la chaleur des enfants qui grâce votre ménage.
Allen