Switzerland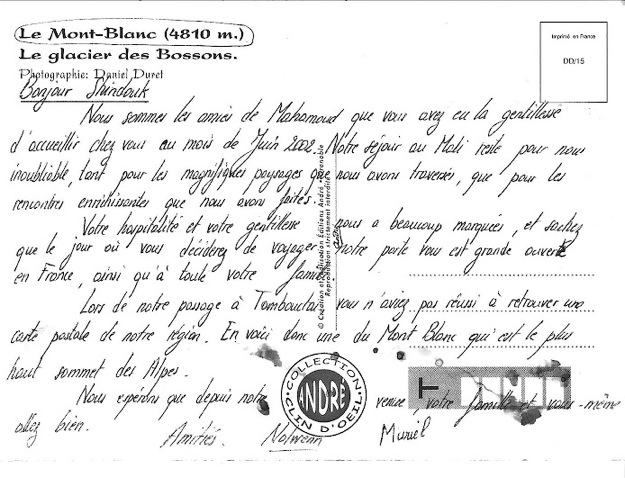 Bonjour Shindouk
Nous sommes les amies de Mahamoud que cous avez eu la gentillesse d'accueillir chez vous au mois de Juin 2002. Notre séjour au Mali reste pour nous inoubliable tout pour les magnifique paysages que nous avons traversés, que pour les rencontre enrichissantes que nous avons faites.
Votre hospitalité et votre gentillesse nous a beaucoup marqués, et sachez que le jour où vous déciderez de voyager notre port vous est grande ouverte en France, ainsi qu'à tout votre famille.
Lors de notre passage à Tombouctou vous n'aviez pas réussi à retrouver un carte postale de notre région. En voici donc une du Mont Blanc qui est le plus haut sommet des Alpes.
Nous espérons que depuis notre venu, votre famille et vous-même allez bien
Amitiés
Nolwenn et Muriel
Hello Shindouk
We are the friends of Mahamoud that you were kind enough to welcome into your home in June 2002. Our stay in Mali remains unforgettable for us, for its magnificent countryside that we passed trough as well as for the enriching encounters that we had.
Your hospitality and your kindness touched us deeply and know that the day you decided to travel our door will be wide open for you in France and for all your family.
During our stay in Timbuktu you did not manage to find a post card of our region. Here is one then of Mount Blanc, which is the highest peak in the Alps.
We hope that since our visit your family and you yourself are doing well.
In Friendship
Nolwenn et Muriel